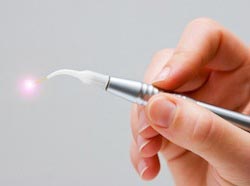 The Newest Laser Dentistry
Dramatic Dental Improvements for Modesto's Smiles
One of the safest, most comfortable and versatile dental tools available is the soft tissue laser – and we have one for our patients right here in Modesto.
The laser we use is an optical device that produces a narrow beam of pulsed light energy, giving us incredible control and precision.
What does that mean to you? It means that this gentle yet powerful ray of light delivers energy specifically to the area to be treated – with no damage to surrounding tissues. Best of all, lasers heal as they work, which eliminates or reduces both healing time and pain.